Snowmobiling in Langlade County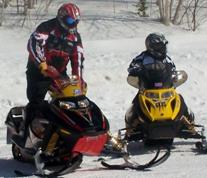 These trails are maintained for the enjoyment and use of the public by 11 different local clubs and Langlade County. There are also two different Zones (A and B) that can open at different times, or all at once. The zones are set to be a guideline, and may be changed as clubs/county coordinator see fit. Trails will open when all clubs in each zone and/or county coordinator has inspected the trails and are considered safe (i.e. brushing compete, signed properly, trail conditions safe, grooming complete). Trails are groomed as conditions warrant (i.e. snowfall, excessive use).
Trails may close at any time due to lack of snow or unsafe conditions. There is no set date when trails open or close.
Our wonderful trail system in Langlade County and statewide would not be possible without the dedicated club members and the private landowners that are gracious enough to allow trails over their properties.
The trails within Langlade County are scenic and traverse glacial terrain, upland hardwood, cedar swamps, farm fields, as well as small streams and lakes. The City of Antigo, Wisconsin allows snowmobile access through their jurisdiction. Winter trails close to ATV's when the temperature is above 28, as damage to the packed trail can occur when temperatures rise above that point.
Langlade County provides an abundance of opportunities for everyone to enjoy snowmobiling. In the winter months there are over 500 miles of beautifully groomed snowmobile and ATV trails.