Fishing in Langlade County!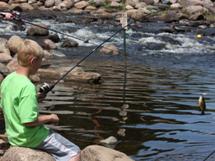 Need a Fishing License? List of locations!
Fishing in Langlade County is a great way to enjoy the natural beauty of the Northwoods! With over 841 lakes, 225 streams, 395 miles of trout streams, and 200 spring ponds we have something for everyone. From the avid fisherman to the amatuer looking for a peaceful vacation, Langlade County is ideal for all.
The combination of lakes and streams in the county provides a wide variety of water-sport opportunities! There are many lakes large enough for "big-boat" fisherman and water enthusiasts. However, a lot of Langlade County's lakes are less than 100 acres. These lakes are located in undeveloped forest settings, making them perfect for the walk-in canoeist or a small craft fisherman.
Langlade County boasts 543 "wilderness" lakes, meaning there are no roads or buildings within 200 feet of the water body. Most of these lakes feature a Bass/Pan-fish fishery.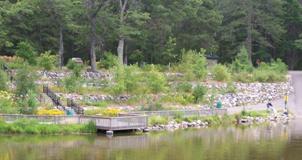 Langlade County is also well known for its river and stream fishing. There are nearly 400 miles of trout streams which support excellent populations of brooks, browns, and rainbows. The streams are located throughout the county with numerous public access points. These are high quality waters with most being class I or II -- meaning natural production is occurring and population levels are good. Wisconsin Department of Natural Resource's crews, along with Trouts Unlimited and other sport groups, have logged hundreds of hours improving trout habitats, ensuring excellent trout fishing in Langlade County.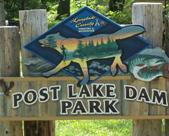 Eastern Langlade County is home to one of the finest trout streams in the Midwest – the Wolf River. These famed trout waters occur in a 40 mile section between Pearson (Highway T), south to Highway M, and are divided by 10 public access points. Brown, brook and occasionally rainbow trout are found in this 40 mile stretch, along with a fine population of smallmouth bass. Brown trout up to 26 inches have been caught on the Wolf River. This section of the river is very scenic but has a steep gradient creating numerous complex rapids and should only be navigated by experienced, properly equipped, anglers. Above Pearson (from Post Lake Dam to County Highway T), the river is slow moving and is easy to float with a canoe. Anglers will find good populations of Northern pike, walleye, bass and Muskie. When it comes to angling opportunities and stunning scenic beauty, the Wolf River is second to none.
---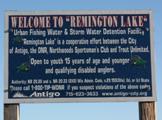 Remington Pond is located at the corner of First Avenue and North Hogan Street in Antigo.  It is open for fishing to kids under age 16 and disabled anglers only. Bring the kids out for a great fishing experience from the shoreline. The pond is stocked with brook trout and rainbow trout.  There is a picnic area and canoe launch available. Please remember that a trout stamp is required for disabled anglers age 16 and older to fish for trout.  Enjoy a fun day of fishing close to home at Remington Pond.
---
If you would like further information on the DNR or Wisconsin lakes please click on the links provided below: