Cycling / Mountain Biking / Fat Tire Biking in Langlade County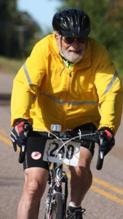 Langlade County offers cyclists many different riding options: winding trails in the forest, smooth paths through farmlands, or relaxing routes around lakes. Grab your bike and ride around Langlade County!
Antigo Single Track Mountain Bike Trail
Enjoy approximately 3.5 miles of rolling hills and beautiful scenery comprised of double track for beginners and technical single track for the advanced rider. This mountain bike trail is close to Antigo, close to shopping, food, and additional recreational opportunities.
TRAILHEAD: N1985 Dump Rd, Antigo, WI 54409
Antigo Springbrook Bike / Walking Trail
This trail is just over three miles, with paths along Antigo Lake and Springbrook. Enjoy the ten-foot-wide boardwalk, paved trail, and wood-chipped loop, which almost guarantees seeing deer and other wildlife.
TRAILHEAD: Fourth Avenue in Antigo, east of Highway 45
City of Antigo Bike Route
This signed and designated bike route, which provides safe connections to community amenities with the use of roads and trails; safely connecting people to places.
Gartzke Flowage
The area offers trails that are very scenic and traverse through a Norway Pine plantation, upland hardwood, and cedar swamps along the flowage. Several springs seeps dot the landscape and add to the natural beauty of this 6.5-mile trail.
LOCATION: W6379 Fifth Avenue Rd, Bryant, WI 54418
Jack Lake Mountain Bike & Winter Fat Tire Trail
Veteran's Memorial Park offers 12-miles of fast, flowing single and double-track mountain biking trails. Whether you are a first-timer or a longtime shredder, these trails have something for everyone. The trail weaves through changing scenery of northern hardwood, aspen, and conifer forest types. The trail also meanders along three underdeveloped glacier lakes, wetlands, and bogs.
TRAILHEAD: Located within the park 15-miles north of Antigo. Once in the park, the trailhead is located in the southwest corner of the parking lot before entering the campground. N8375 Park Rd, Deerbrook WI 54424.
Moccasin Lake
This 5.5-mile trail oversees two basins; the Prairie flowing west, and the Hunting flowing east. On the eastern leg, the view overlooks a vast black spruce swamp that extends to and beyond Elcho. The far end offers three fun hills; the Luge, the Expressway, and the Muskellunge.
LOCATION: North of Antigo off Moccasin Lake Road, Elcho, WI 
Nicolet Roche Mountain Bike Trail
This 20-mile trail in the Chequamegon-Nicolet National Forest is a tight and technical single-track that incorporates natural features like long sections of intermediate trails littered with technical rock gardens, fun punchy climbs, and advanced features that make excellent use of the terrain. It is sure to keep the excitement levels up.
LOCATION: South-end at Boulder Lake Campground, 1.8 miles northeast of Highway 55 via County Rd WW and Forest Road 2116. On the north end of Highway 64, 3.3 miles east of Langlade.
Wolf River State Trail
 This 33.4 miles of mountain bike trails from White Lake to Lake Metonga in Forest County. The trail follows along the former Wisconsin Central railroad corridor. The trail is non-motorized ins summer from White Lake to Lily, but from Lily to Lake Metonga, the trail is motorized. The trail is not developed in Langlade County, but walkers and bicyclists may use the trailhead. The trail may be rough or soft in many sections, so the tread is more suitable for off-road bicycles. Parking is available in downtown White Lake, Highway M, and Lake Street near the intersection with Maple Street.