Antigo/Langlade Chamber of Commerce & Visitors Center Events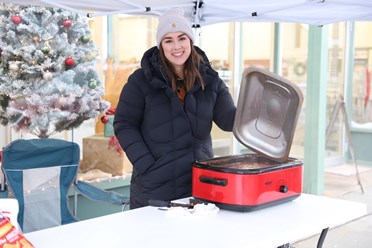 🌶️Join us for the Red Hot Chili Peppers Chili Cook-off!🌶️
 🕠 Time: 5:30 PM
📅 Date: Wednesday, December 6, 2023
Get ready to tantalize your taste buds as chili enthusiasts from the community showcase their culinary prowess in a heated competition to claim the title of the ultimate chili champion. The streets of Downtown Antigo will be filled with the enticing aroma of simmering spices, and you're invited to be part of this delicious adventure.
Whether you're a chili connoisseur or love a good time, this event promises an evening of community camaraderie, mouthwatering bites, and maybe even a bit of friendly competition. Bring your appetite and sense of adventure, and let's spice up the night together!
Don't miss this opportunity to join the chili celebration at 5:30 PM sharp. We can't wait to see you there!
The Red Hot Chili Peppers Chili Cook-Off: Where Flavor Meets Fun!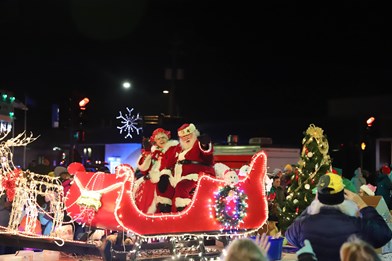 🎉 Attend the Holiday Christmas Parade! 🎄
Get ready to unwrap the magic of the season at the most enchanting event of the year – the Downtown Antigo "T'was the Night Before Christmas" Holiday Christmas Parade!

Mark your calendars for Wednesday, December 6, 2023, at 6:30 PM, as we transform the heart of our city into a winter wonderland filled with dazzling lights, festive floats, and the jolly spirit of the holidays!

Join us for an evening of joy and merriment as our parade winds its way through the charming streets of Downtown Antigo. Bring the whole family to experience the magic of the season with larger-than-life floats and, of course, a visit from the man in the red suit himself – Santa Claus!

This year's parade promises to be a spectacle that will warm your heart and create cherished memories for years. So, bundle up in your coziest scarves and mittens, grab a cup of hot cocoa, and join us as we kick off the holiday season in style.

Whether you're young or young at heart, the Downtown Antigo Holiday Christmas Parade is a celebration for everyone. So, gather your loved ones, spread the holiday cheer, and make your way to Main Street for a night of festive fun!

Don't miss out on this magical event that brings our community together in joy and unity. See you at the Downtown Antigo Holiday Christmas Parade on December 6th – where the season's magic comes to life!

🌟 Event Details:
🎅 Date: December 6, 2023
🦌 Time: 6:30 PM
🏘️ Location: Downtown Antigo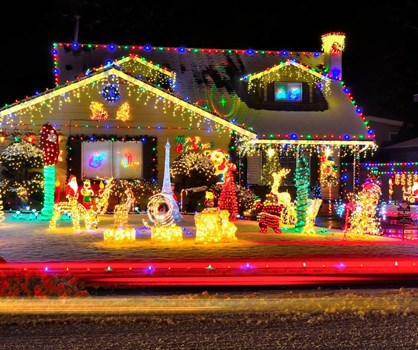 "Let It Glow" Holiday Christmas Lights and Tour Contest!

 
Experience the magic at our "Let it Glow" event! Immerse yourself in a sparkling wonder as we illuminate Langlade County with our inaugural Christmas Lights Tour and Contest.

Event Details:

Dates: December 1st to December 25th, 2023
Location: Langlade County, Wisconsin

What to Expect:

Experience Langlade County's Christmas Lights Tour and Contest, where businesses and residents compete to be crowned Langlade County's Best Decorated.

Plan your route with our interactive map to explore every corner of our enchanting county.
Be the judge as you cast your votes for the most festive, most creative, and the overall best display.
Winners will be announced in both the business and resident categories, ensuring recognition for all.
.
Join us as we light up the night and kindle the holiday spirit throughout Langlade County. "Let it Glow" promises to be a cherished tradition for years. Don't miss this inaugural celebration of light and joy!
Vote for your favorite Resident or Business Storefront:
VOTE HERE!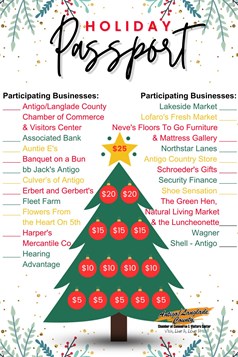 Embrace the Warmth of the Community with the Local Holiday Passport!

 
This holiday season, let's come together to support the heartbeat of our community – our local businesses! Introducing the Local Holiday Passport, your key to unlocking a world of festive cheer while shopping at your favorite neighborhood stores.

🎄 What is the Local Holiday Passport?

The Local Holiday Passport is your guide to discovering the unique charm and warmth that local businesses bring to the holiday experience. It's not just a document; it's a commitment to nurturing community spirit and making your festive moments truly special.

🛍️ Shop Local, Win Big:

Each participating business is a stamp/initials in your passport, and every stamp/initials brings you one step closer to exciting rewards. From quaint boutiques to cozy dining, make your purchases count and watch the festive joy unfold.
Complete you Passport and turn it in for a chance to WIN the Grand Prize valued at over $100.

🎅 Spread the Joy:

Share your Local Holiday Passport journey on social media using #ShopLocalLangladeCounty and inspire others to embrace the warmth of supporting local businesses. Your festive moments could spark joy in others and create a ripple effect of community celebration.

📍 How to Participate:
Print Your Passport Here!
Pick Up Your Passport: Visit any participating local business to get your hands on the Local Holiday Passport.
Shop and Collect Stamps: Make holiday purchases at participating businesses and collect stamps/initials for each transaction.
🌟 Shop Local, Feel the Warmth, and Spread the Joy!
PARTICIPATING BUSINESSES:
Antigo Country Store
Antigo/Langlade County Chamber of & Visitors Center
Associated Bank
Auntie E's - Sweet Thyme
Banquet on a Bun
Culver's
Erbert & Gerbert's - Antigo Superior St.
Fleet Farm Antigo
Flowers from the Heart on Fifth
Harper's Mercantile
Hearing Advantage
Lakeside Market
Lofaro's Fresh Market
Neve's Floors To Go Furniture & Mattress Gallery
Northstar Lanes
Schroeder's Gifts
Security Finance
Shoe Sensation
The Green Hen, Natural Living Market & The Luncheonette
Wagner Shell - Antigo