Antigo/Langlade Chamber of Commerce & Visitors Center Events
Sip & Stroll Wine Walk - April 30, 2022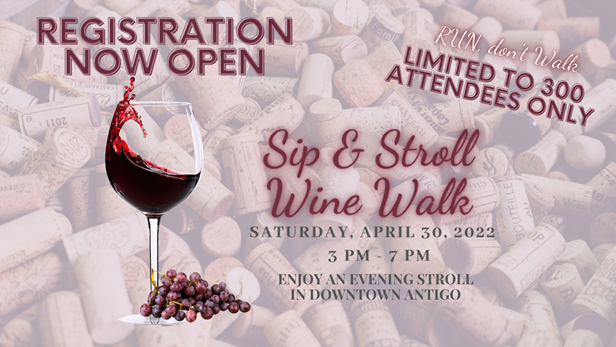 For everyone anticipating the upcoming Sip & Stroll Wine Walk. Run, don't walk, registration is now open! This sip-tacular event is limited to 300 attendees, so make sure to snag those tickets while you still can!!
The first Downtown Antigo Sip & Stroll Wine Walk. Sip, savor, and stroll our local downtown businesses from 3 pm to 7 pm.
Limited to 300 attendees.
Must be 21 to attend the Sip & Stroll Wine Walk.
Grape minds think alike!
Begin your Saturday stroll at Wild Epitome from 1 pm to 4 pm during Ladies Day Out.
What a Vine and Dandy way to spend your Saturday.