Hotels in Langlade County


Antigo Super 8
535 Century Ave
Antigo, WI 54409
715-623-4188
The Super 8 is located in Antigo, Wisconsin. Pride of the Super 8 property conveniently located at the junction of Hwy 45 and Hwy 64, one-half mile from the Langlade County Fairgrounds. Free WiFi in all rooms and public areas, indoor heated pool, whirlpool and sauna and complimentary breakfast. Located on the snowmobile trail.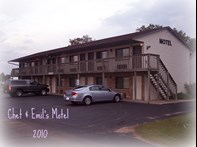 Chet & Emil's Motel
388 Main Street
Birnamwood, WI 54414
715-449-2297

Chet and Emil's Motel is the perfect "mom and pop" establishment open year-round.  If offers 12 rooms with WiFi.
Langlade Inn
W4530 State Hwy 55
White Lake, WI 54491
PHONE: 715-882-2424
Website
There are 10 Northwood's rooms, located on the banks of the Wolf River, all with a patio and relaxing chairs to watch and listen to the bubbling rapids of the water. WIFI and coffee always available.
Plus, lots of space to park. Snowmobiling, canoeing, rafting, casinos nearby, ATV trails, lakes and parks, all close by.
---
---
Donovan's Trailside Inn
N9881 Hwy 55
Pearson, WI 54462
PHONE: 715-484-3045
Website
We are located on the snowmobile trail.  ATV trails nearby.  
---

North Star Mohican
Casino Resort
W12180 County Road A
Bowler, WI 54416
TOLL FREE: 800-775-2274
Website
Enjoy an overnight stay in our 97 room hotel with all the amenities. The resort is located east of Wausau on County Road A between the villages of Bowler and Gresham. Visit and discover the enless action, entertainment and extravagance right here in the Northwoods.
---