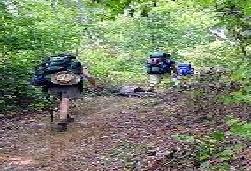 Thousands of acres of public land offer hikers a great choice.  Langlade County is home to 50 miles of the thousand-mile Ice Age Trail. The trail is divided into five segments, the Kettlebowl segment, 13 miles. (8/16/18: The Kettlebowl segment will be closed for a period of 2-3 months due to a logging operation); the Lumbercamp segment, 12 miles; the Old Railroad segment, 9.5 miles; the Highland Lakes segment, 12.3 miles; and the Parrish Hills segment, 12 miles. You can receive specific information and maps for each of these segments from the county.
If you prefer a "wilder" hike, check out the Chequamegon-Nicolet National Forest in eastern Langlade County. Veteran's Memorial Park also offers several miles of well-marked nature trails, featuring a loop around Jack Lake. You can also see an arboretum with over 500 plant species. In the Ackley Wildlife Area, just west of Antigo, hikers get the chance to view waterfowl, deer, and even an occasional bear. Peters Marsh Wildlife Area, located on County Highway A, 9 miles northeast of Antigo, covers 1,687 acres. The property provides homes to numerous wildlife species including waterfowl, ruffed grouse, deer, turkey, black bear, woodcock, snowshoe hare, beaver and many others.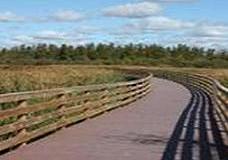 The City of Antigo Walking/Biking Path is a great way to enjoy the outdoors close to home. The path is 10' wide, and includes 2,000' of boardwalk, 2 outlook areas, 1 fishing pier, and gates at the main entrances. There are several access points for the path next to Antigo Country Store, the Little League Park on Second Avenue, north end of Virginia Street, and behind North Elementary School.
The path is open year round from dawn to dusk. All Park Policies & City Ordinances apply to the walking/biking path. You are welcome to bring your pet along but they must be leashed, and the pet owner is responsible for properly disposing of pet waste. Some sections of the path have low-light levels, please use good judgment when using the path after dark and early in the morning.